What your customers say about you matters—a lot. This is something all business owners know, and over the past decade, search engines and online rating platforms have made customer reviews more important than ever before. 
Reviews are on par with word-of-mouth recommendations in terms of how persuasive they are when prospects decide if they want to do business with you or not.
---
Why Reviews Matter
Positive reviews establish trust. According to BrightLocal, 84% of people trust online reviews as much as they would a personal recommendation. Aside from increasing trust among potential customers and the likelihood that they'll choose you over competitors, they offer another incentive to local businesses because search engines use them to determine the quality of a local business. When search engines see gobs of customer reviews from a number of sources, they will assign more authority to businesses receiving the reviews—this means you show up before your competition!
Where to Get Reviews
You can collect reviews from innumerable sources around the web, but there are a few that carry a bit more weight, or at least visibility. Facebook and Google both offer great visibility for businesses. You can easily see the level of visibility these reviews have by typing the name of an established business within Google. The Google review will appear at the top of the search just beneath the map and photo of the business. The aggregate Facebook review will often appear twice: Once on the right of the screen, and once within the search results for the business.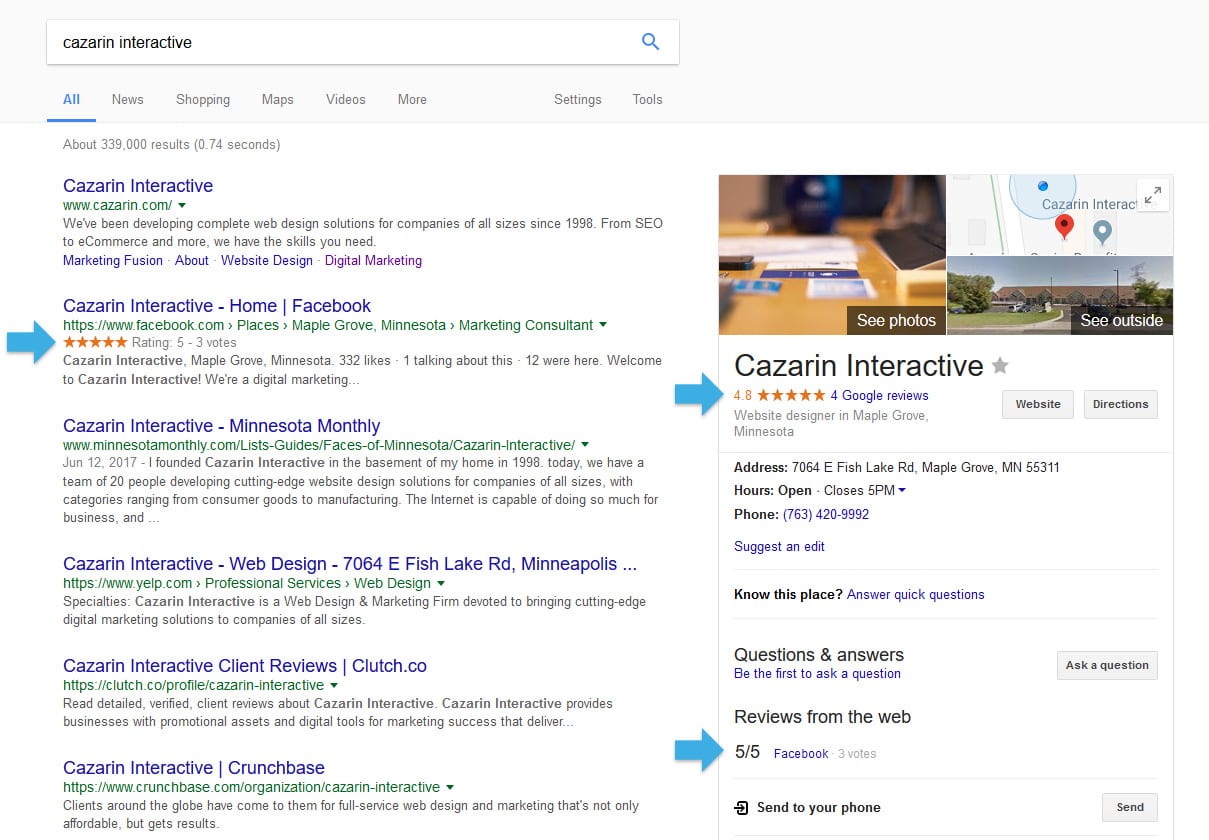 Aside from Facebook and Google, you can get reviews from all sorts of local directories, including YellowPages and Yelp. There's even evidence to support that getting reviews from multiple sources is great for your visibility on the web. However, some sources carry more influence than others. Google, Facebook and Yelp appear more prominently on search engines. They also attract more users than their competing review platforms. For this reason, we recommend seeking reviews from these sources. There are a few instances where industry related websites trump these, but for most businesses, Facebook, Yelp and Google are the go to sources.
---
Not Collecting Reviews
Are you asking yourself "Will it really hurt my business if I don't collect reviews?"—well the answer is yes! Since almost all internet users consider reviews to be as trustworthy as personal recommendations, it is crucial that you are able to beat or match your competitors in your reviews in order to have a fighting chance at landing that lead.
When individuals search for a company by name, they'll see reviews right away on the search engine results page. For instance, look at the search results page for this Lakeville home builder.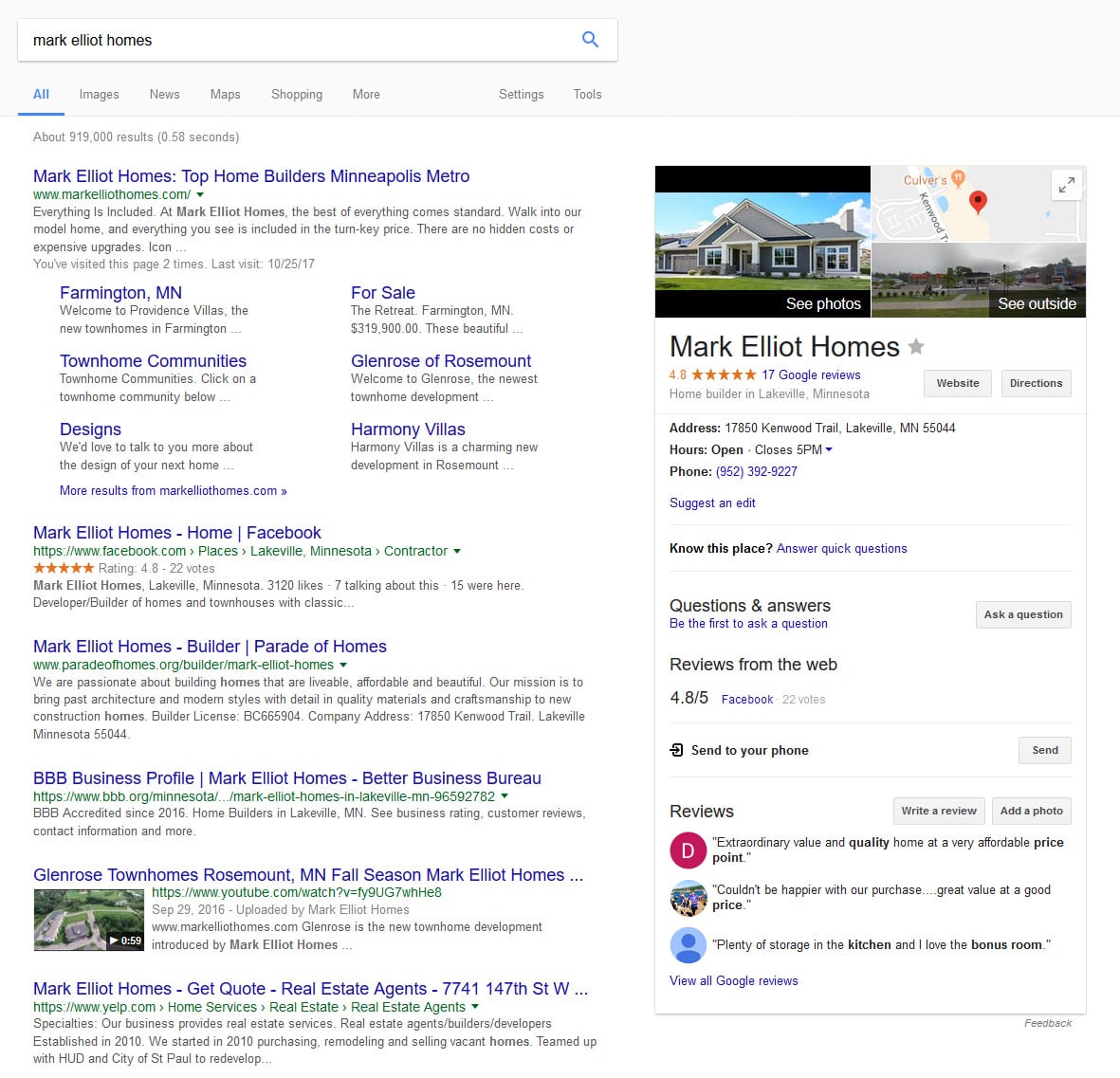 You can see that reviews take up a major part of the page, so they are one of the first thing a potential customer will see. Last of all, these reviews do help your rank, so it's kind of a no-brainer that you should actively seek them out!
---
Asking for Reviews
Reviews offer an almost unbeatable value to your business—for little to no cost. Google prominently displays reviews on it's search engine results page. You'll see these reviews when you search for a name of a business. Here's what happens when you search "Cazarin Interactive":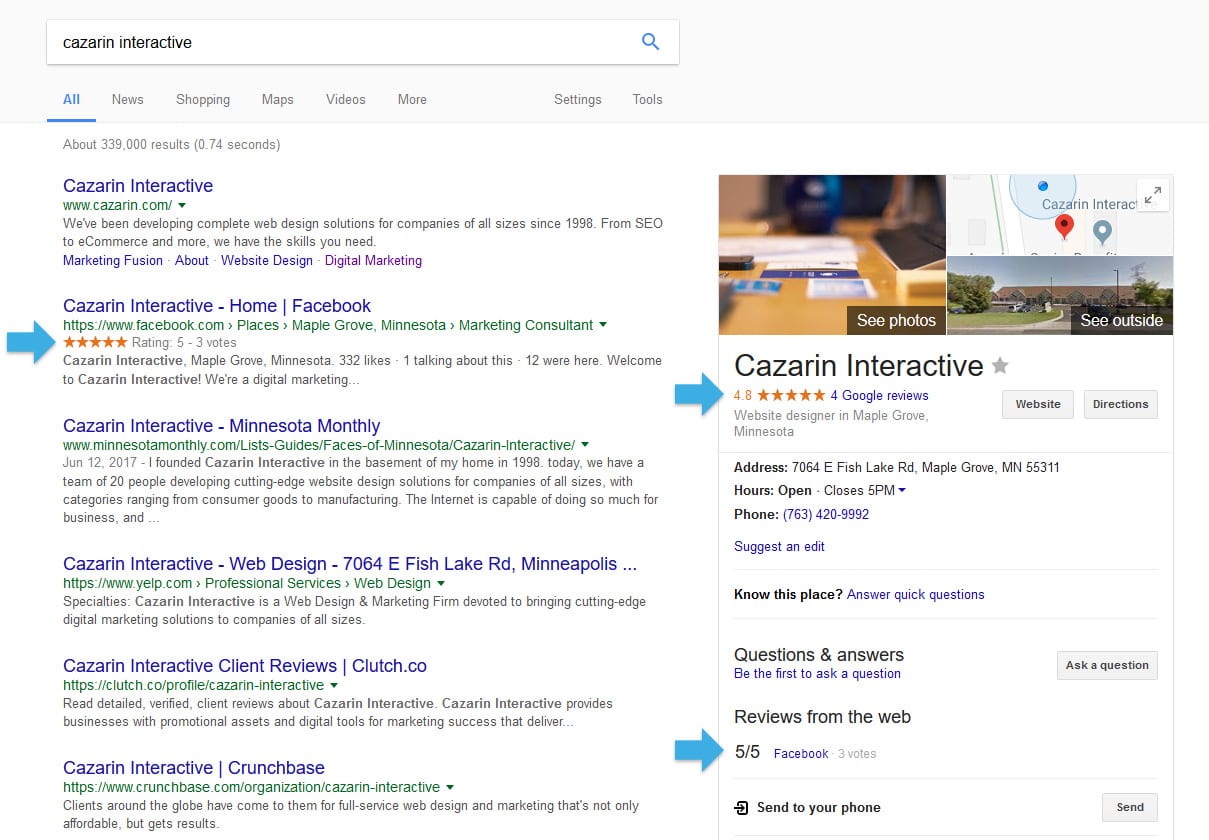 Searchers will also instantly see reviews of your business stacked up against competitors in your area.
Getting a steady stream of positive reviews ensures your business is well represented when new prospects seek you out, and better yet, it improves your visibility on the web. There's really no reason not to seek them out.
---
How To Ask
Many businesses will include call outs requesting reviews in the emails they send to their customers. This works, but the best way to get reviews is by asking directly. That means asking them in person, over the phone, or through a personalized email. Your customers are far more likely to take a handful of minutes to leave you a review when the request is made by an actual person.
Personally asking everybody you do business with may not be a manageable approach for you, but whenever a customer gives you or your team a compliment, it's a good idea to ask them to leave you a review at that time—strike when the iron is hot!
How Not To Ask
There are a few things you should avoid when collecting reviews:
Asking for reviews on Yelp. Yelp has a policy detailing why they don't want you to ask for reviews, and they apply an overall higher level of scrutiny on posted reviews than other sources For this reason, we usually recommend Facebook and Google to our clients as the primary space to encourage reviews. Yelp also has an extra downside to it when it comes to the visibility of your reviews: Some reviews your clients leave won't show to the public if the client is new to the platform, making it harder for new reviews to appear under your listing.
Setting up a review kiosk. This used to be a legitimate strategy, but it isn't anymore. Google will monitor the IP addresses of incoming review sources to guard against this tactic.
---
Don't Ignore Bad Reviews
Customers will occasionally give poor reviews, it is unavoidable, and how you respond is up to you. For most business owners, the main course of action when it comes to poor reviews is to do nothing, and a few will even write angry messages in response. Can you guess which one is the right choice? Answer: Neither option is a good idea!
The best course of action is to respond to a bad review in an amiable way by personally reaching out and asking how you can resolve the customer's complaint. If the customer is reasonable, it's possible to get them to remove their bad review. If they're not, you still show goodwill to the community that you tried to right the situation. Also note that getting rid of a bad review on most platforms, especially Google, is a lengthy and difficult process, so personally dealing with your bad review is often the only way to rectify the situation.
---
Reputation Management
Good or bad, it's important to respond to reviews. A responsive business shows prospects and customers that you care about their experience. It also can help turn your aggregate reviews in a positive direction. Managing the workflow for this can be tedious as there are numerous review platforms. Thankfully, there's software that can help simplify the process, or you could come to us! The Cazarin team developed a great solution that can be used to reduce instances of bad reviews while promoting positive ones. Want to learn more? Send us a message today!
---
Hopefully by this point, you understand the importance of collecting and monitoring reviews for your company. Reviews are one of the few organic methods for advertising your company to potential customers, so the efforts you put into them are not for nothing. Even if you don't have the manpower to constantly ask for reviews or to monitor them daily, you have options! The Cazarin team can help you promote the best image possible in the digital market. To learn more about how we can help, check out our Services page.
---
Want to talk about a marketing or website project you have in mind?
Let us know the details and together we can find the best solution that works for you! Just fill out our Project Inquiry Form and we will reach out to you soon!