THE CLIENT | Advantage Construction
Based in Minnesota, Advantage Construction is a full-service general contractor specializing in roof and siding replacement and repairs. Over the years, they have built an incredible reputation as one of the most trusted roof and siding repair companies to work with, especially when dealing with unexpected and catastrophic damages, especially after a major storm.
CLIENT CHALLENGES | Great at Construction, Needed to Boost Their Community Presence
Advantage Construction was doing all the right things! They were saving their clients money and providing quick service, all with minimum disruption to their clients. They were even filing insurance claims on behalf of their clients. While they were great at quality repairs and customer service, their phone was not ringing off the hook for new jobs. They knew they needed to advertise and promote their business, but they were not good at all that marketing stuff.  So that's when Advantage Construction decided to reach out to the Cazarin Interactive team for help.
SOLUTIONS | Scope of Work
Brand Strategy
Landing Page with Opt-ins
New Website
Facebook Ads and Posts
Promotional Campaigns
Printed and Digital Brochures
Branded Business Cards
Email Templates and Campaigns
Promotional Video click here
Paid Advertising click here
THE IMPACT | Real Results
To quickly boost sales, Cazarin implemented a digital marketing campaign right after some damaging storms rolled through during the summer of 2015.  Almost immediately, Advantage began to see:
Website visitors grew nearly
50% per month
Social media engagement increased
Cazarin continued to work with Advantage Construction into a second phase to enhance their brand and capture as many prospects hit by the storm in Brooklyn Park and Blaine on June 13, 2017. The promotional campaigns created:
RFPs increased nearly
100%
Monthly prospects grew nearly
150%
THE CAZARIN APPROACH | Building a Great Marketing Relationship

It wasn't long after talking with Advantage Construction that the Cazarin team could see the heart of the company.   With their strong commitment to recruiting former military servicemen and women, they are proud to have several veterans on their team.  Not only that, they have sponsored and replaced more than 150 roofs for community veterans.
With a commitment to their Minnesota communities, it was clear that Advantage was not one of those fly-by-night companies coming to new towns to capitalize on community tragedy and unsuspecting clients.  Cazarin took a look at similar contractors to prepare a competitive analysis to determine Advantage Constructions' unique selling points.  The Advantage team was experts at dealing with insurance claims and home inspections, and since they were general contractors, they could take care of nearly any problem area that a client was experiencing.  Creating a custom marketing and branding strategy plan, Cazarin quickly kicked off a digital marketing campaign to position Advantage as a trusted community partner with quality service and products. 
THE OUTCOME | Building Clients. Exceeding Goals.
The digital promotions and campaigns worked like a charm. The branded landing page helped capture numerous leads through the 'Schedule Your Free Inspection" opt-in feature, and Facebook ads targeted homeowners and business owners in specific Minnesota communities.   The social media ads and strategic email campaigns helped Advantage Construction reach new communities and potential new customers. 
The Advantage Construction team was amazed at the number of prospects that were coming in each month.  And when the original campaign exceeded set goals, Advantage and Cazarin continued to build their brand strategy with the creation of new marketing materials and a  website redesign.  Nearly seven years after the first digital marketing campaign, Cazarin supports and maintains the Advantage website and leads its digital marketing strategy.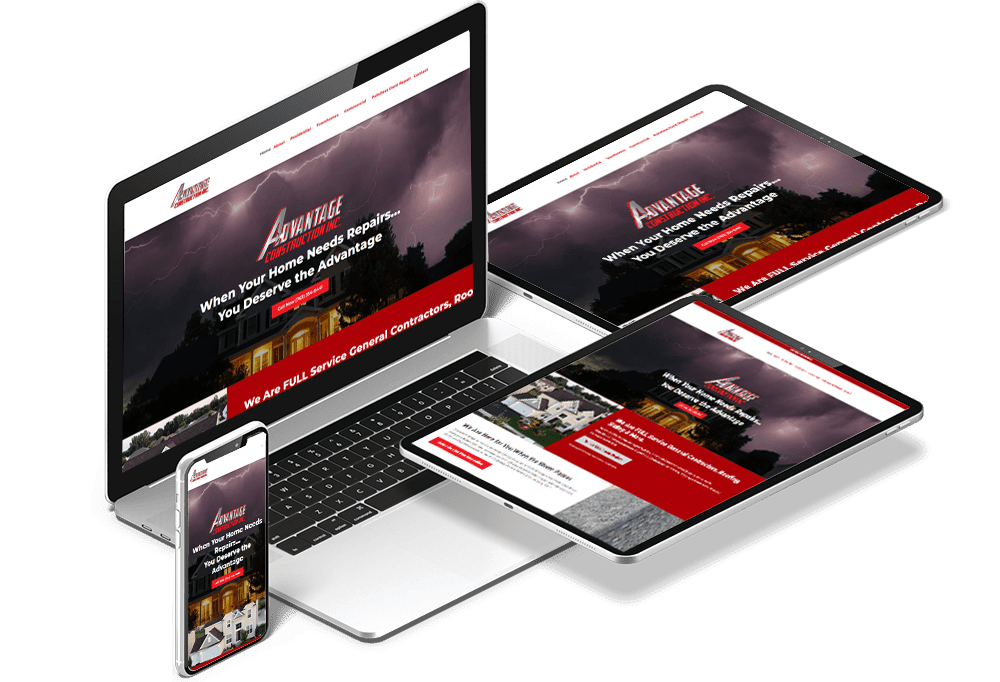 Our work speaks for us.
See for yourself!