What is Content Marketing?
According to the Content Marketing Institute:
"Content marketing is a strategic marketing approach focused on creating and distributing valuable, relevant, and consistent content to attract and retain a clearly defined audience – and ultimately, to drive profitable customer action."
In other words, content marketing is how you speak to your potential and current customers to keep them engaged with your company – it is telling the story of your brand and building relationships with your customers through their connection to your story.
So, what are some methods for telling your brand's story? Magazines, short videos, films, photos, digital publications (blogs, white papers, eBooks, etc.), email newsletters, infographics, events, swag, and so much more – but you get the idea.
Deciding what content marketing methods and messaging to use is how you lay the groundwork for all prospect and customer digital marketing communications. The Smart Insights content marketing strategy guide tells us that content marketing gives us "a multi-channel life-cycle engagement strategy, unifying ALL your digital marketing communications to support customer acquisition, retention and growth goals." A well executed content marketing plan will carry your prospects and/or customers through a cohesive journey with your brand across every platform that they interact with.
---
Why Content Marketing?
Content marketing gives you an edge over your competition because when people make a connection to a brand, they are more likely to remain loyal regardless of price differences or other side effects of market saturation. Consider Apple, for example. As reported by Fortune, the average selling price of an Apple cellphone has remained mostly consistent since 2010, whereas Android phones are selling for a significantly lower price than they were in 2010.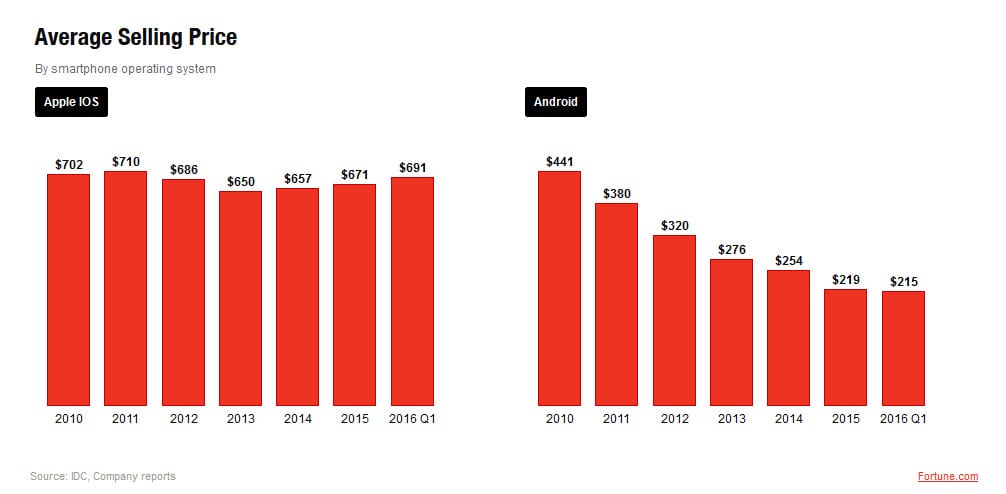 Source: http://fortune.com/2016/02/15/apple-android-asps/
Apple is able to command a higher selling price because users of Apple products are unwaveringly loyal to the brand and price is not a concern for them. Apple doesn't feel the pressure to compete on price point with its competitors because they know their customers are dedicated to Apple products and will buy their products no matter how much money they could save by buying Android products.
Apple and other top brands are able to draw such loyal followers for several reasons, and one of them is the consistent and eye-catching content they release to the public. It is important for content to be relevant, but it must also speak to the audience you are targeting and make them want to be a part of your brand by becoming an ambassador for it.
The Dove company did just this when they launched the Dove Campaign for Real Beauty in 2004. This campaign involved many different campaigns and forms of content that spoke to Dove's target audience: real women. This content included commercials, magazine ads, online videos, billboards, social media campaigns, community outreach programs, and digital ads which encouraged women to stop looking at themselves as unbeautiful and to rethink the things they see as "flaws" on their bodies. Examples of some Real Beauty campaigns are below: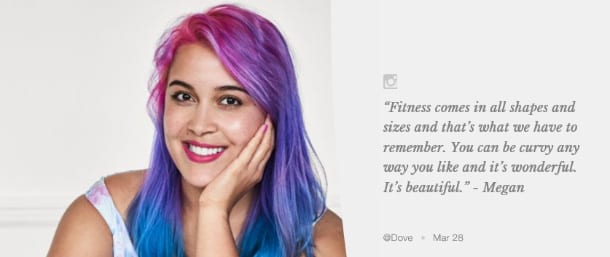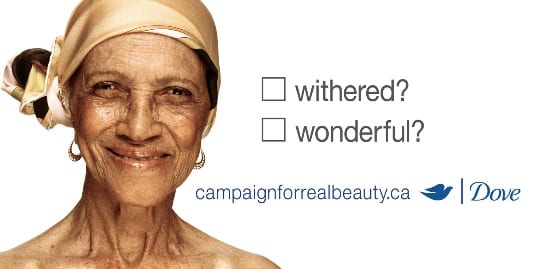 What did Dove do right when creating the content for the Real Beauty campaign? They featured real women to speak to their audience, thus their audience was able to see themselves in the content and make a personal connection to the messaging. Kind of a no-brainer. Dove's content portrayed a genuine interest in their market, and it worked! After running their campaigns for 10 years, sales increased from $2.5 billion to $4 billion per year for Dove. This is the power of content marketing!
---
How to Implement Content Marketing for Your Company
Successful content marketing speaks to your audience by telling them who you are and what you stand for as an organization. Unsure of where to begin telling your story? The root of any company's story should be found in its mission and core values – use these as a starting point to find out how you can translate those into something your target audience can connect with.
Take note: It is important that you do not run before you can stand when creating your content – you cannot enter the content marketing world as an expert, you need to take your time. Your audience will be able to tell if you are just churning out content for the sake of content and not putting any real thought into what you are telling them. This is a fast way to deter potential customers. The best practice for effective content creation is to connect it to your customers' buying process to make sure you are effectively moving your prospects through the funnel from leads to customers.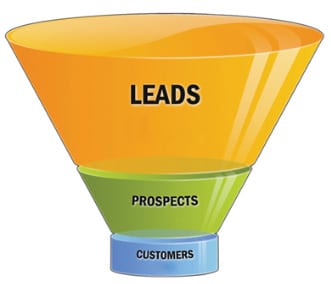 Once you have a solid grasp on who you are as an organization, you don't need to do all of the leg work on your own! The Cazarin Interactive team is the resource you are looking for to help you become a leader in your market and for creating the brand loyalty you are striving for. From blogging to well planned and executed digital content, the Cazarin team members are experts in the field of creating a cohesive story across all touchpoints you have with your customers – we help you reach, connect, and engage.
---
You Invested Time and Resources – Is it Paying off?
In any organization, your want to make sure that the work you put into something is actually benefiting your position in the marketplace, otherwise, what's the point? This same principle applies to content marketing. Creating cohesive and effective content to relay your brand's story is a time consuming marathon that should not be done half-heartedly, so naturally it is going to take a lot of time and resources to be executed properly. So how do you make sure that this time and money is not spent in vain? Well, according to the Smart Insights "Guide to Content Marketing ROI", "the first step toward creating ROI content is to turn your content creation process on its head… think less about producing content and think more about how you can use content to turn your readers or viewers into leads, sales, and advocates all along the buying cycle." Once you are able to produce this meaningful content, you should then implement one (or both) of these tactics:
Set a Metric – Metrics relate to how you measure the success of your content marketing efforts. Examples include: page likes, shares, downloads, event attendees, post/video views, new leads, opt-ins,  etc.
Use Analytics – You can tag specific content with a unique tag to help you track the performance. (psst… this is something Cazarin can help with!)
Overall, you want to pick a way of measuring the ROI on your content marketing that works for you and that measures what is most important to your company. If brand awareness is you main goal, then concentrate on page likes and post interactions. If more leads is what you need, then use those as your measure of ROI.
---
Tame the Content Monster… Let Cazarin Help!
Content marketing may seem like an intimidating monster, but as I mentioned earlier, you don't need to tackle this alone!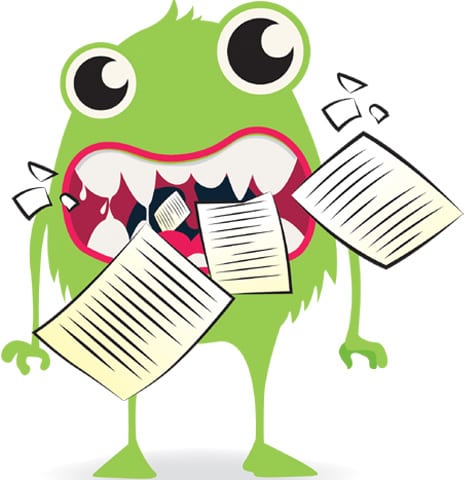 Creating effective content marketing is hard, this is undeniable, and if you don't have the internal resources to execute it correctly, it is unlikely that it will produce the outcome you are hoping for. This is why using a company like Cazarin Interactive is a smart idea! Think of us as your content marketing wizards. We will work closely with your team to discover exactly what you want to say and we will recommend the perfect channels to use to reach your target audience.
Check out our Content Marketing page to see how we can help you standout in your field! Interested in other marketing or website services? We have you covered! Explore our full list of services here and let us know what kind of project you would like our team to work by submitting a simple Project Inquiry form.