Infographics are specially-designed graphics that display lots of information in an easy-to-digest visual format. They're being used in Social Media posts for their eye-catching nature and in print and online journalism thanks to their knack for showing hard-to-understand data.
Click below to see an example of an infographic on Responsive Website Design: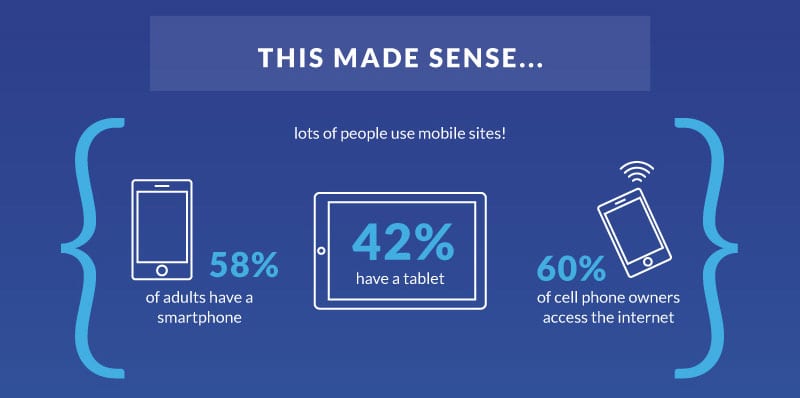 Should You Be Using Infographics?
Infographics can be very useful in the following situations:
If you publish blogs or articles and would like to bring more attention to your content.
If your business or blog has a presence on Pinterest. Pinterest is fueled by powerful images, with infographics as one of the main stars.
If you have complicated results, data, or timelines you'd like to share with your visitors, and need an easy way to convey them.
If you'd like to share your industry knowledge with your followers, and could use an attention-grabbing, potentially viral way to do it.
What makes a good infographic?
Color
The colors of an infographic need to grab attention without being overwhelming. Consider using your brand's colors, seasonal colors, or build off of the images that lead the topic. See this example created by Cazarin's team.
Readability
If you're planning to post on Social Media (and you should), your piece will end up in a feed of other images. The text must be readable enough at smaller sizes, particularly your headlines and subheaders. Check out this example!
Balance
Balance white space with content. Balance text with graphics. Balance dry data with interesting tidbits.
Relevance
Don't build an infographic just to build an infographic. Make sure it contains meaningful information and tidbits that can be read quickly or understood visually. If your infographic has text in paragraphs, take those parts out and let them take their rightful place in an article. See this example by Cazarin.
Branding
This is a chance to show your business's expertise, and it should be branded accordingly. In addition to including your brand colors and your logo, work in your own message and personality. Use your brand's voice, and include tidbits about your experience or your specialties where appropriate. See this somewhat subtle example from Ford about childhood "The Road to College."
Accuracy
An infographic is only as good as the information it displays. Be sure to use only credible, accurate information, and place reference links in the footer of the infographic.
Resources for Infographics
The team at Cazarin Interactive can create an infographic on any subject. We've covered everything from Sleep Tips to Online Word Origins to Social Media.