In the last 9 months, Google has made two major changes to how their search results appear on desktops, and both happen to mirror how results look on your mobile phone. What do these changes mean for small businesses? And months afterward, what adaptations are successful when accommodating these Google-made rearrangements?
First, let's review what has changed.
In August, the Local Results that are often shown directly under paid ads went from including seven results to only including three. And the competition to be in that pack of 3 instantly got fierce.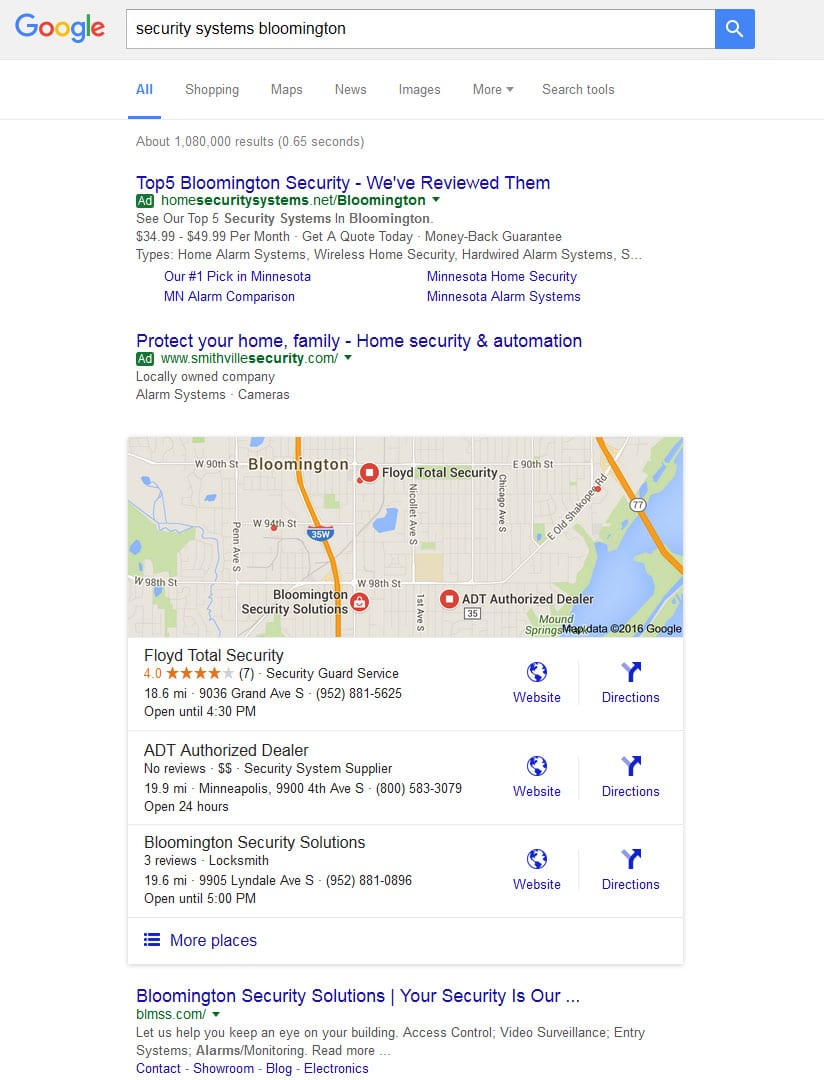 Then in February, Google changed their desktop results to look even more like a mobile search by getting rid of Right Column Ads altogether.
There are now usually four paid ads at the top of the page instead of three, while the other ads that used to appear on the right column of the page have shifted down. Those ads now sit quietly below the full page of organic results. Basically ad #4 got an upgrade to first-class, while ads #5 and #6 got downgraded to the cargo bay.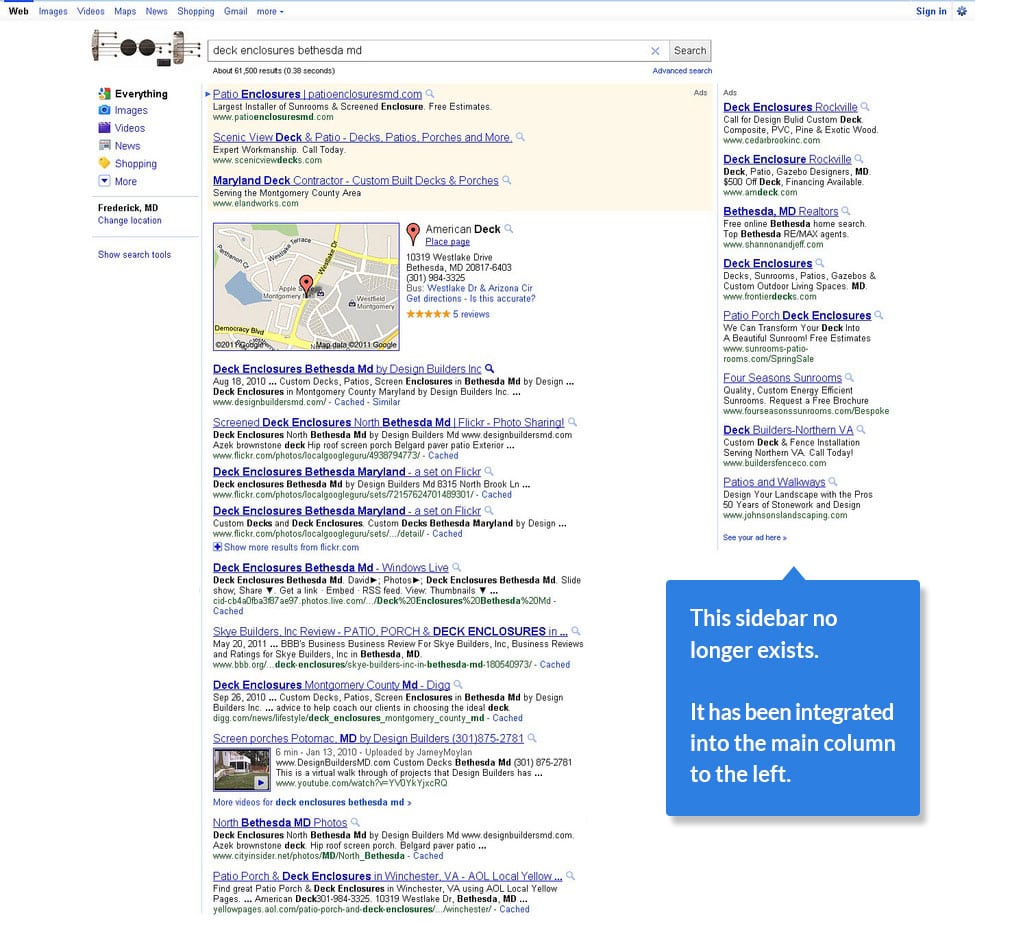 Taken together, these changes produced two major consequences for businesses, and both have to do with "the fold," which means the top part of the page that you see without having to scroll.
Organic results are now "Below the fold" in many cases, meaning that ads and local results in the map take up the top real estate of the search page. (See the "security systems" example search above.)
Competition to be within the top 4 ads on the page and the top 3 local results with the map is suddenly much tougher than the previous layout of 6 ads and 7 local results. Basically businesses have half as many chances to show up above the fold as they did before.
What to do?
Adwords
First of all, it turns out the 4th spot isn't so bad now. Some argue that the 3rd ad position has actually received the biggest boost in clicks. While Cost-per-Click has gone up slightly for some because positions 5 and up are basically useless, the truth is that the 4-7 slots along the right rail weren't getting many clicks anyway. Careful campaign management and watching those average positions and CPC will be key moving forward.
Local SEO
The local results that are shown with the map are still powered by Google's algorithm, and you can't pay to get there. And since the organic links are farther down the list, the local 3-pack has become even more important for local businesses. Now more than ever, businesses should be focusing on optimizing for local searches.
What does that mean?
Cazarin Interactive can help you optimize your local SEO. This includes monitoring and fixing directory citations, having consistent NAP (Name, Address, Phone information), optimizing webpages for specific locations, and, among other things, creating and keeping up your Google+ local profile, especially by earning new Google+ reviews.
It's worth noting that this update has made it more difficult for businesses located outside their target audience's specific city. For example, if you search for Restaurants, the map will return with 3 restaurants very close to your physical location (probably with google+ reviews). Google has given more weight to physical location, which is helpful for some businesses like florists or dry cleaners, but less sense for businesses that serve an entire area.
Organic SEO
Although the organic results are below the fold on many occasions, SEO is still extremely relevant not only because it factors into local rankings, but because in some cases, paid ads and local results are NOT part of the search engine results page. That's right, when searching with certain terms, all of the information we've just given you does not apply, and it's just you and the organic results.
For example, searches using long-tail keywords (those using 3 or more words) often return a page of only organic results, like this: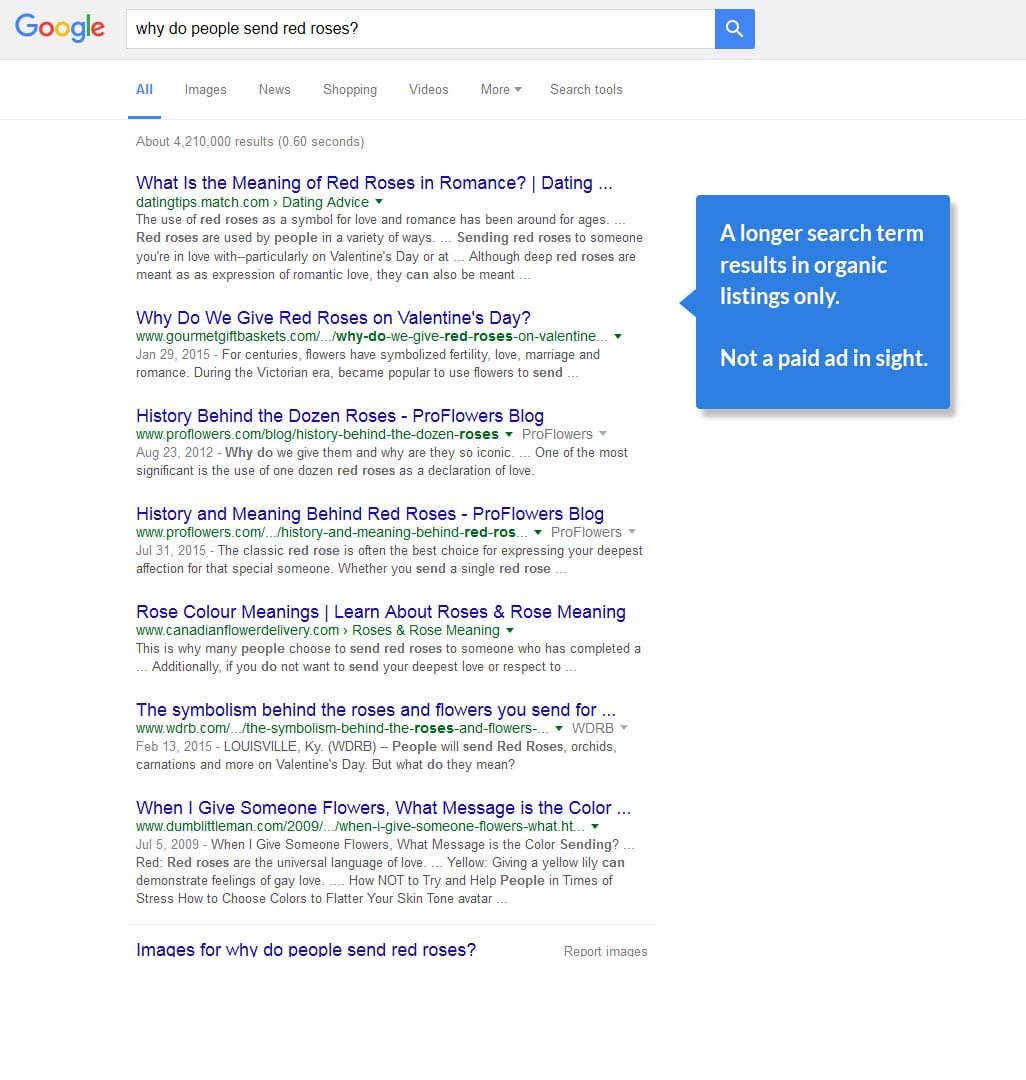 In Summary
Although your friendly Google results page may look a bit bare, having a balanced strategy that includes the trifecta of a solid SEO plan, a strong Adwords showing, and quality content on your website is still the best way to fare these changes, and any changes yet to come.