Top Digital Design Agency in Minneapolis
Cazarin Interactive has been recognized as a 2020 top digital design agency in Minneapolis by Clutch!
A Clutch leader
is one who is a leading agency in their field and possesses a strong commitment to high-quality customer service.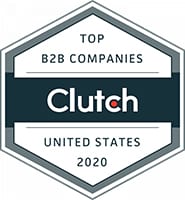 "To be recognized by the leading global voice on B2B companies is not only an honor, but a testament to the caliber of company Cazarin has committed and strived to become for our clients." –Ricardo Ortizcazarin | President, Cazarin Interactive
Did you know that 38% of people will stop engaging with a website if the content or layout is unattractive? It's true. These days, you can't afford to forsake or skimp on implementing good web and user interface design.
However, you don't have to worry about that because that's exactly why we're here for you! As your trusted partner, we constantly stay on top of all the latest and most effective digital design trends and practices.
Since 1998, we've been providing an array of creative technology-based marketing and design solutions. Our agile approach to project management allows the scope of our work to adapt to your evolving needs as the project progresses.
As you may know, we emphasize the need for Marketing Fusion™ to promote an atmosphere of collaboration. In doing so, we combine our strengths with yours and become an extension of your team.
Over the years, we've completed numerous projects and engagements that have left our clients raving about our excellent customer service and the high quality of our deliverables.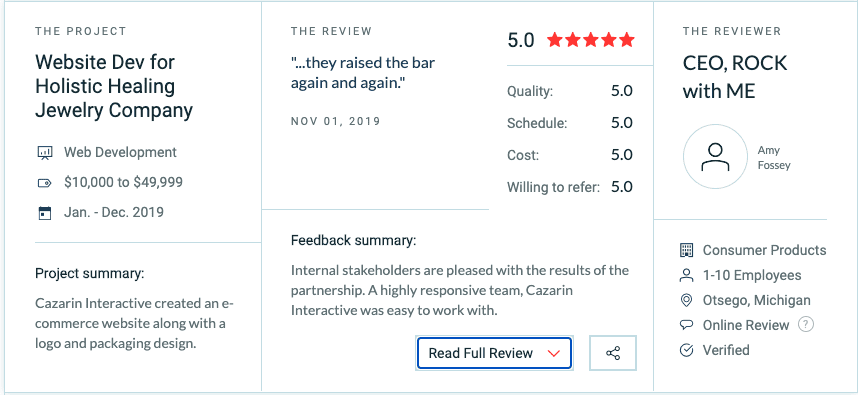 "Internal stakeholders are pleased with the results of the partnership. A highly responsive team, Cazarin Interactive was easy to work with." –Amy Fossey | CEO, Rock with Me
Only the highest performing companies receive Clutch Leader Awards, so we're incredibly grateful for the recognition. We'd like to give a big thank you to all of our clients! We're grateful for your partnership and we look forward to working with you more in the future.
As always, tell us if you need anything. Have a new project? Contact the Cazarin team today!