You want to start a blog for your company. You've heard it's great for your SEO, creates free press, and best of all, is easy to start. It almost sounds too good to be true.
And that's because it is.
Yes, blogs can be a valuable asset to your company's web presence. But that doesn't mean you can create a WordPress account, write a three-hundred-word piece, and expect magic to just happen.
To create a blog that benefits your company, you need to have a plan in place—just as you would for any traditional marketing strategies. Here are the questions you need to ask as you form a plan for your company blog.
1. What Are Your Goals?
Like every investment you make in marketing, your blog should have a goal that can be measured. Here are some company goals that your blog can help fulfill.
Building an email list. One of the most powerful digital assets you can invest in is your email list. It's the most direct line to your customers that (usually) isn't hindered by algorithms. An excellent way to build your email list is through a blog that is regularly updated with great content. While new visitors are nice, they don't matter much if you can't contact them again in the future.
Creating credibility. Credibility can give you an edge over your competition. A blog is a great way to build that credibility. It is a perfect place for employees to share their expertise and fans to see why your products and services are indispensable. One way you can measure credibility is by tracking how often industry leaders cite or share content you have posted on your blog.
Increasing the value of your website. Search engines love fresh content, and a blog is a great way to keep feeding the beast. If your goal is to increase the value of your website in terms of pageviews and rankings, a blog can you help do that. To measure these goals, start tracking the increase in organic reach, traffic, and keyword rankings.
Of course, there are many goals that you could have for your blog. Pick a goal that is measurable and start monitoring what works and what doesn't.
2. Are You Prepared to Invest?
Installing a blog is almost touted as a get-rich-quick scheme. While it is typically cheaper than most marketing initiatives, especially over the long-term, adding "blog" at the end of your web address doesn't make a success.
First, you have to learn how to produce content. A quality blog that helps you achieve the goals you set above requires more than just throwing a bunch of words together. Brainstorming topics, creating enticing headlines, and simply writing well is sometimes harder than it seems. Since a blog is one of the most public faces of your company, make sure that content is high quality. This may require the services of a professional writer or editor.
Professional writers can also help produce articles that are a bit longer. Google favors high-quality content, which often means more words per article. Top ranking posts on Google had a whopping 2,400+ words—or about ten pages of content. And Google favoring long-form content is a trend that is expected to continue for the foreseeable future.
Blogs also require regular maintenance. If you are planning on building and growing an audience, you need to create new content fairly often. According to HubSpot, you need to publish four new pieces of content each week to get the most out of your blog.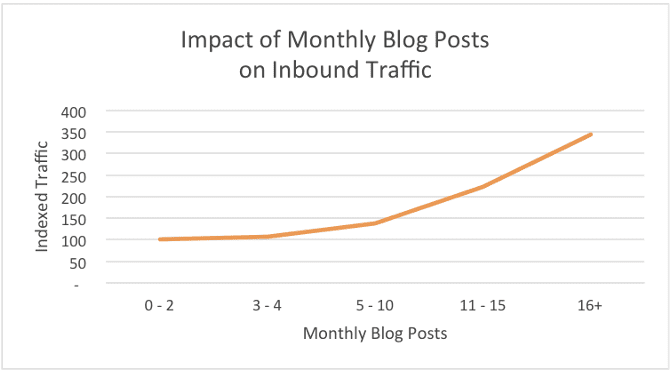 Committing that amount of time and effort takes rock-solid planning, the right resources, and the right team.
3. Can You Handle the Risk?
No new venture comes without risk, even a simple blog. There a number of potential scenarios you should consider before diving in:
How much will you let your community be involved? Will you allow readers and customers to comment on your blog? If so, do you have guidelines put in place to make sure discussions stay civil and customer complaints can be taken care of promptly?
What happens if you go viral? Everyone loves a lot of traffic, but a lot of traffic at once can cripple your operations. Whether it's your first or 100th post, any article can go viral at any time without warning. Can your servers take the heat? Are your writers and your company prepared to be accountable for the inevitable scrutiny that comes along with going viral?
Can you handle the free spirit? Blogs, by nature, are supposed to be inviting and authentic. For some companies, it is easy to be open. For other companies, being open comes with some uneasiness.
Have you considered the legal implications? It is likely that your company blog will be updated far more often than your other marketing materials. This means there are more opportunities for your company to be inadvertently involved in a legal issue. Just because a blog is a more casual affair does not mean you can neglect to consider consumer protection laws or advertising rules.
While many of these issues are unlikely to happen, they are still risks worth considering when deciding to add a blog to your company's website.
4. Be Confident Pushing Forward
While answering these questions may feel daunting, be confident that having a plan will set up your company's blog for immense long-term success. It will also give you an edge over your competitors, who are likely flailing, or worse, suffering from consequences that could easily be avoided.