Maia wanted to share her cookies and love, her friends wanted more—it turned into a business!
By Ricardo Ortizcazarin | President, Cazarin Interactive
Entrepreneurship is about adapting to meet the needs of others.
I hope you enjoy this encouraging example of my niece Maia. She wanted to share her cookies after learning how to make them from her mom. Her friends loved them and asked Maia how to purchase more. Within a week many orders came through and now Maia and her family bake two to three dozen cookies daily to meet the demand.
On a recent Sunday evening, my cousin and his family decided to teach their daughter Maia how to make butter cookies. Maia is only eight years old and had a desire to learn something new. My cousin's family has been affected like most people during COVID-19 and thought this would be a good way to spend time together and teach their daughter something new.
They baked a few dozen cookies and decorated each one. Maia then asked her parents if she could share the cookies with her friends. They created small packages filled with a few cookies and a loving message from Maia and delivered the cookies directly to the mailboxes of her friends and teachers.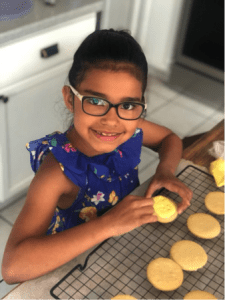 After her friends received the cookies and tasted them, they started to call and ask to acquire more… and voila! One Smart Cookie was born. Maia, with help from her mom, came up with a name, a handwritten "company card", and designed a logo to accompany the orders. Within a few days, orders for cookies were rolling in. Maia and her parents jumped back into the kitchen and began baking more cookies and have now upgraded to five different shapes: cactus, flowers, circles, bunnies, and hearts.
Maia writes hand-made cards to accompany each of the cookie packages. They have the name, a logo she created, phone number, and price for additional orders.
When I talked to Maia about her new venture, she told me that she enjoys making the cookies and has made over $112 in one week.  
Maia started her business by trying to share her cookies with her friends and teachers during this pandemic, and it's growing into something bigger. Asking her parents what they liked most about this new adventure, they shared that Maia has taken initiative in making the cookies and only utilizes them for baking now.
Resources
One Act of Kindness: oneactofkindness.org
Questions
What are you doing to spend time with your loved ones during this time?
How have you adapted your business to meet the changing needs of your customers?