THE CLIENT | Cameron's Specialty Coffee
Cameron's Coffee doesn't operate any coffee shops or conjure up any coffee-house-style foaming concoctions. They are focused on one thing—making the very best coffee to enjoy at home. Coffee that's consistently full-flavored and always smooth, never bitter. With a devotion to quality, a passion for coffee, and a dedication to craft a better cup of coffee, Cameron's is on its way to becoming one of the greenest facilities in the world, and always looking to make the world a little bit better, too.

CLIENT CHALLENGES | Focused On The Right Roasts
There are two ways to make fantastic coffee, the right way or the easy way.  Cameron's coffee always chooses the right way, every time.  Busy perfecting their roasting processes, Cameron's didn't have much time to devote to other parts of the coffee business.  They knew they wanted their promotions to match the quality of their coffee, but they were way outside of their comfort zone when it came to marketing.  When they reached out to Cazarin Interactive to help grow their sales, they knew they had partnered with the right team to shape their online presence.
SOLUTIONS | Scope of Work
Web Design
Web maintenance and Support
Social Media
Blogs and posts
Marketing Automation
Email Promotions
Brand Strategy
Single Serve Video click here
THE IMPACT | Real Results
300%
increase in sales (within 3-months)
1800%
sales growth (within 12-months)
Social media engagement – UP
THE CAZARIN APPROACH | Exchanging Coffee for Promotions
When we first met the owners of Camerson's Coffee, they were still somewhat in their infancy stages.  While the company began in 1978, the company changed hands in the 90s and opened its state-of-the-art roasterie in 2010.  It didn't take long to realize Cameron's vision for bringing superior coffee to larger, coffee-savvy audiences was just one of their goals.  They also wanted to expand beyond the local grocery shelves and share their blends nationwide.  Cameron's coffee needed a sophisticated web presence, a social media strategy to capture nationwide attention, and an eCommerce platform to boost its online sales. 
While their passions were high, they were already heavily invested in their new facility and had a somewhat tight budget.  To get them started, we decided to approach their marketing and branding strategy with a unique arrangement.  When we offered to build their website without cost in exchange for a percentage of generated sales, they couldn't wait to get started.
THE OUTCOME | Starting From the Grounds Up
Positioning a company like Cameron's Coffee as 'America's Best Home-Brewed Coffee' is an easy task when you believe in the product, the owners, and the company.  Our job was to make sure their local community and nationwide coffee connoisseurs discovered that Cameron's Coffee was the best way to bring more taste to their days.  
Overall, the goal was to translate Cameron's new brand and packaging assets into a fresh and inviting digital experience. Combining their bright color palette with active lifestyle imagery and a brisk shopping experience, we were able to reflect the core values and attitudes of Cameron's Coffee to their sip-savoring fans state to state.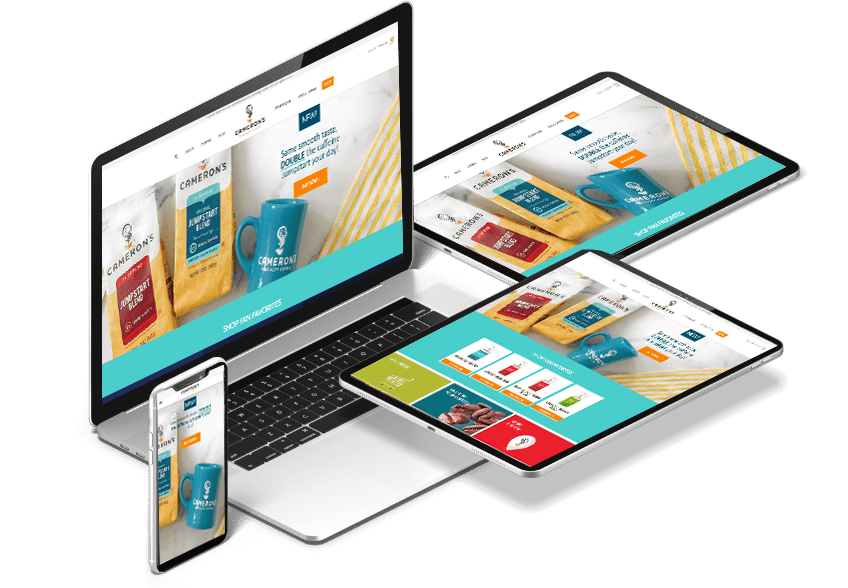 IN THEIR WORDS | What Cameron's Coffee Has To Say
We are very happy with our new website. We feel the look and overall feel of the site conveys our premium brand image well. We have already experienced significantly improved traffic and revenue.
– Bill Kirkpatrick – CEO, Cameron's Coffee
Our work speaks for us.
See for yourself!