THE CLIENT | NCI Micro
As leading experts in microscopy, histology, and electron microscope sample preparation, NCI provides cutting-edge instruments and services to clinics, hospitals, life science research centers, manufacturing, forensics electron microscopy, as well as components for education in the classroom.

CLIENT CHALLENGES |  Lost Amongst Their Competitors
NCI was deeply rooted in the medical community as a well-respected supplier of quality instruments for Microscopy, Histology, and EM Sample Preparation needs.  What they didn't have was an effective way to promote their products, schedule demonstrations, or highlight their factory-authorized services that included repairs, cleanings, and maintenance.  They were starting to feel lost amongst their competitors and were ready to stand out.
SOLUTIONS | Scope of Work
Logo Creation
New eCommerce Store
Corporate Website Development
Brand Strategy
Lead Generation
Promotional Campaigns
Email campaigns
THE IMPACT | Real Results
NCI became a client of Cazarin in 2007. Implementing a brand refresh and a new visual identity, Cazarin established their first eCommerce website with a content marketing strategy that saw quick results:
Ecommerce lightbulb sales increased by

500%
More than 100%
increase in corporate website visitors
Requests for demonstrations doubled
THE CAZARIN APPROACH | Brightening Up What Already Existed
Like many Cazarin clients, NCI already had a web presence but lacked a user-friendly layout and design.  Web analytics showed visitors were at a minimum, so we knew we had our work cut out for us.  A new website was part of the new branding approach including a better way to showcase their product sales.  After discovering what set NCI apart from the competition, we presented NCI with a strategic marketing plan to highlight both their services and their products for sale.
THE OUTCOME | One Company, Two Brands
The brand refresh and partnership with NCI began in 2007.  To help them gain a stronger brand presence in the marketplace, we presented NCI with two integrated, user-friendly websites with the added value to function independently.  One branded website for NCI, and a secondary eCommerce store for product sales and demonstrations.  Both branded websites were exactly what NCI was looking for with the right blend of functionality and interactive design.  Still today, NCI remains a Cazarin client for marketing refresh, campaigns, and promotional assistance.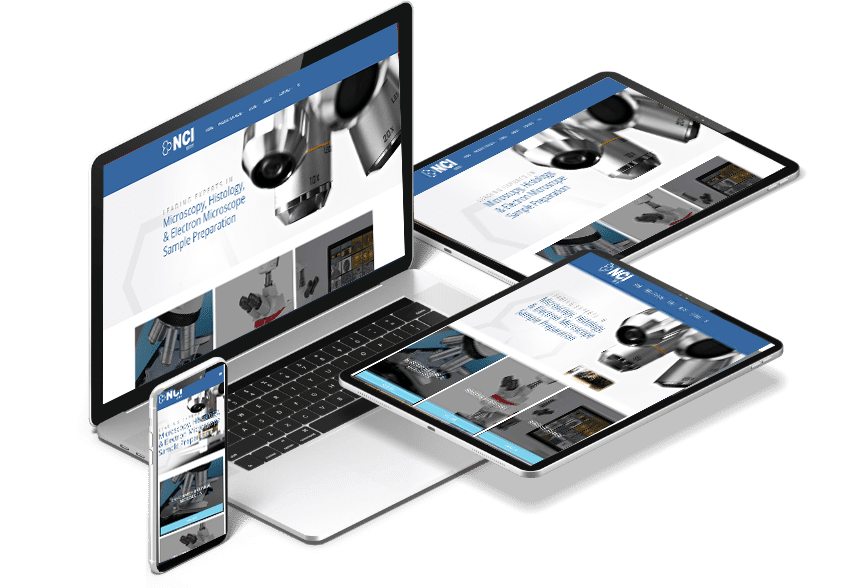 IN THEIR WORDS | What NCI Has To Say
Thanks for all your help in helping us to brand our company and its divisions.
– Brad Johnson – CEO, NCI Micro
Our work speaks for us.
See for yourself!