THE CLIENT | Baby Sleep Site
We began our partnership with The Baby Sleep Site in 2022. Their brand's main focus is providing restful nights and better tomorrows for parents and caretakers of young children by offering customized sleep plans and one-on-one coaching services. The Baby Sleep site promotes holistic sleep solutions which is one of the areas we wanted to emphasize most. 

Advance their Brand
Our marketing goal was to advance their brand through website enhancements and overall CMO practices.  A few of the main ways our team did this was by: 
Updating their homepage – We improved the UIX of their website and upgraded the visual quality as it relates to brand messaging, graphics, and page accessibility

Carrying out a complete redesign of their logo – Our logo redesign emphasized their unique and holistic approach, featuring a softly illustrated moon to set themselves apart from other consultation brands

Making a video series that encompassed their needs for social media – 3 videos up to 30 seconds long that encompassed photography, b-roll, and narration to be utilized across social media and their website 

Creating unique marketing plan to define demographics and advance their brand strategy 

Promoting their blogs online 
Check out our before and after of the website:
BEFORE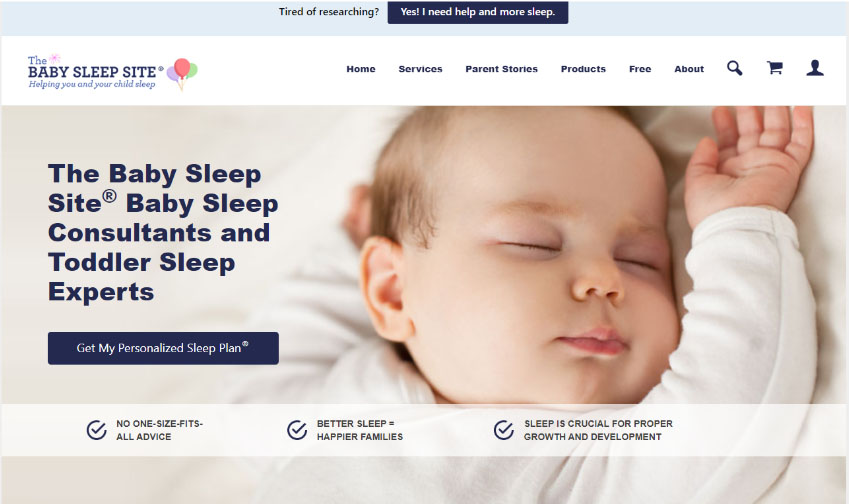 AFTER
CAZARIN APPROACH | Visual Enhancement for Current Website
The Baby Sleep Site had a detailed website to begin with, but was lacking the warm visual design to set themselves apart and highlight their welcoming approach. After their new homepage launch, The Baby Sleep site received a huge influx of calls, resulting in multiple consultations within just day one, a new record since their founding! We are grateful to have the opportunity to partner with The Baby Sleep Site!
Our work speaks for us.
See for yourself!