THE CLIENT | AR North America
As a supplier to top level OEM's for plunger, diaphragm, and vacuum pumps, AR North America, Inc. product lines remain the first choice when quality matters.  AR, based in northern Italy, is a privately owned company which has been product orientated right from its humble beginnings in 1958. Designing, developing and building pumps for almost 6 decades with passion and integrity: these have been the milestones of AR's success.

CLIENT CHALLENGES | Creating Easy Customer Searches for Products and Parts
With online sales beginning to rise, AR North needed an easy way to connect customers to their products.  As part of the world's largest manufacturer of pressure washer pumps, AR North America looked to Cazarin to design a new website that would continue to keep them recognized as an industry leader.   As a customer-first business, ARNA needed some creativity to keep them at the forefront of online pressure washer searches for online product sales..
THE IMPACT | Real Results
AR North America became a client of Cazarin in 2018.  Implementing a full branding strategy and marketing campaigns, Cazarin established their first eCommerce website with complete marketing strategy with quick results: 
THE SCOPE | The Power of Excellence
Brand Identity
E-commerce site for parts and tools
Ad Campaigns
SEO strategy
Brand Style Guidelines and Updates
Marketing Strategy
Email Automation
Website Refresh
Social Media Building
Lead Generation Strategy
THE CAZARIN APPROACH | Discovery Phase Uncovers That More Needed
After the initial brand discovery with ARNA, we knew they needed a little more than just a simple website refresh of their existing platform.  Extensive research led Cazarin to uncover the U.S. buyer personas and then shape a branding strategy to target their ideal customer.   Our initial goal was to develop one site for ARNA company information that also would include product and part sales, as well as to develop an organic and paid advertising plan.
THE OUTCOME | And Then There Were Two
Sometimes what we plan isn't what we end up with.  Our initial plan of developing a single website seemed to leave a lot of room for a little bit more.  What we implemented was something way more impactful.  We presented ARNA with two branded sites that integrated perfectly with one another and with the added value to function independently.  One website to act as their information site and landing page, and a newly created e-commerce sales site for their parts and tools.  
WIth two sites fully integrated with SEO, Cazarin then had the opportunity to launch a marketing campaign that included the development of LinkedIn messaging and advertising along with the ability to capture email addresses for future customer promotions.  
Overall, the blended and integrated sites have been exactly what AR North America was looking for.  And still today, ARNA remains a Cazarin client for updates and promotional assistance.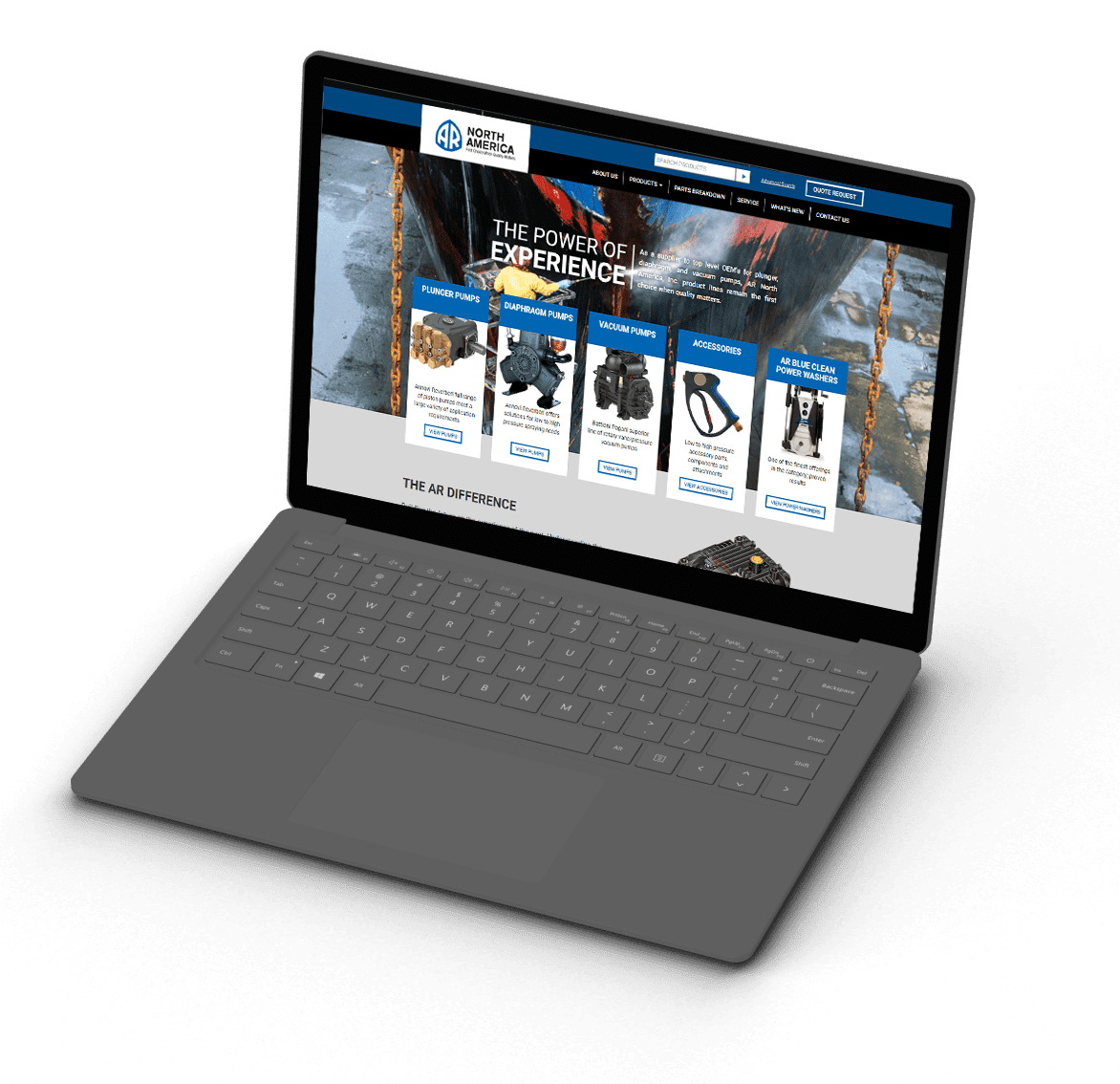 Our work speaks for us.
See for yourself!