Cazarin Interactive integrates SpamExperts solutions for all of our email service customers. SpamExperts is a leading company in email security that allows filtering of all incoming and outgoing messages to reduce spam delivery and prevent it whenever possible.
It is impossible to prevent 100% of spam but our service is able to prevent a huge majority of it for you. Tens of thousands of emails are worked and filtered for you every day with very few issues. This service gives you the ability to release your own email messages.
Is there a plugin for Outlook or Apple Mail?
SpamExperts provides add-ons for Outlook and Apple OSX Mail. These add-ons allow you to quickly and easily report messages that were not quarantined before they arrived in your mailbox. Essentially you are training the Spam Filter to your systems specifics. Please see Spam Add-Ons page.

What is this Quarantine Report?
Every day the service sends an email to you with a list of blocked email messages for the day before. You have the option to release any email right from that email by clicking the Release link at the far right of each row.
You can login to the server to get up-to-the-minute reporting of blocked messages, read on.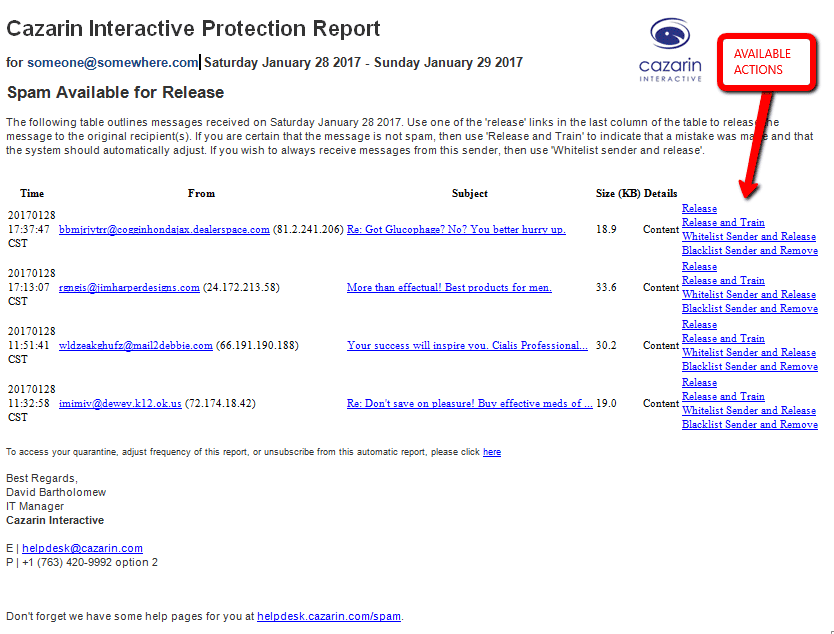 Available Actions
Release – Release this message, no further actions.
Release and Train – Release the message and Train the filter for future actions like this email.
Whitelist Sender and Release – Whitelist this sender for all future messages, NO SPAM CHECKS will be performed on this sender after whitelisted.
Blacklist Sender and Remove – All future email from this sender will be blacklisted and automatically deleted.
Please note some actions may require you to log onto the spam filter, please see the next section for more detail.
What is My Password?
If you have yet to log in to our NoSpam server, you can get your first password by following these easy steps:
Click on the Retrieve log-in Link button.
Enter your email address into the Username box and click on the Submit button.
You will get a password by email. Please see next section for more information.
How do I look in the Spam filter to see if something has been quarantined?
Follow these instructions to log into and work with your email account's spam filtering.
You may also click on the "subject" text (see the sample report above) the link will bring you to the sign in page.
Login by entering your email address and password, click the submit button.
The Control Panel is displayed; you can choose the actions to complete. Each action is described below.
The Spam Quarantine is the most common feature used within the control panel. Here you can review blocked email messages, remove unneeded messages from the list, or release messages into your inbox.
Spam Quarantine
Click the Spam quarantine button to get started.
Once clicked, the system returns a list of email messages that are held in your spam quarantine folder.
You can search for specific items by Subject, Sender, or Recipient by clicking the drop box, and entering your criteria as prompted. Click the blue search button.
Please note if your search doesn't return what you are looking for try changing your search parameters, or work through the full list by using the reset search button.
Actions Available on Blocked Messages:
The drop down and check-box on the far left, allow you to Release, Release and Train, or Remove the message(s) from the list.
Actions Available:

Release – The email message will be delivered to your inbox.
Release and Train
Remove – Deletes the email message from the quarantine without delivering it to you.

You can choose to perform the above actions on a single email item or by checking the box you can act on all checked items.
You can preview an email before taking action by clicking the subject of the email (link).
What does "[NoSpam .3]" mean in my email subject line?
The spam filter adds this subject line notation "[NoSpam .3]" when the filter assigns a spam probability percentage score greater than 30% but less than the configured quarantine score, the default is 90%. SpamExperts recommend this labeling to help users further reduce clutter by allowing to use your email client's junk filter rules to further weed these items out of your inbox.
The service quarantines or blocks emails when the assigned score is at or over the assigned probability. The minimum score can be adjusted by email domain if 90% is too high and you are getting too much spam. Please note this cannot be set by user only by domain. If you find that too many emails are coming through that should be quarantined there are two solutions:
First, the spam filter is trained by users reporting emails to it
The primary account manager may request that the scoring be lowered. Note lowering probability score means more email items will be blocked but it does not make the filter any "smarter".
Can I "White List" a common sender?
To add a sender or a sender's entire domain to the white-list you must send a request to the helpdesk. Email us or use the Helpdesk Contact form. Please include the whole email address and/or domain address of the sender that is to be white-listed.
Very Important – Once an email address or domain has been whitelisted all emails from that domain/address will be delivered without any checks. That means if the whitelisted sender gets a virus or malware and sends you malware it will be delivered to your mailbox. Therefore, it is vital that your computer have current antivirus and malware protection.
What if I still get something Spammy?
In the web interface we have a "Report Spam" button. You can upload a spam message on the page to train the spamfilter. It is a 'drag 'n' drop' feature, meaning you can save the SPAM email to your computer, then drag and drop the email into the "Report Spam" area. Currently only the .eml format is supported.
Other methods are available to report spam, please see Spam Add-Ons page.
Please feel free to contact us if you have any questions about other features of our NoSpam service.